Are you ready for another year of milk bag weaving? 
In 2021 we made a grand total of 6238 milk bag mats. Every mat has been delivered to people in need.. far and wide and close to home, overseas to downtown streets, and even to St. Vincent where people there suffered through a devastating volcanic eruption, leaving them without their homes.
I am now going to give you the yearly accounting of what we have accomplished since Milk Bags Unlimited was established.
2008 to 2013.. 1353 mats
2014.. 1707 mats
2015… 3517 mats
2016… 5729 mats
2017.. 7255 mats
2018… 6270 mats
2019…10826 mats
2020… 5700 mats
2021… 6238 mats
Total.. 48 595 mats
With the bags that I have in storage, plus the ones that have been sent to various places, we have saved approximately 28 640 700 bags from going into the landfill.
So… Upwards and onwards, we will continue to make mats as long as I have charities to donate them to. If anyone hears of a need somewhere or if you know of a container going overseas where we can have some space to ship mats, please let me know. 
The next pick up day will be on Wednesday, January 5th. Please email us to let us know if you are coming. If the weather is not good, please don't feel you need to attempt driving to KLEINBURG. You can email me and we can make arrangements for another day for bag pick up. Remember as well, that there are boxes of bags at Canadian Food for Children in Mississauga at 1258 Lakeshore Rd. E. You can get boxes of bags there, but you have to go between 8 AM and noon, Monday to Friday.. NO WEEKENDS OR AFTERNOONS.
One more thing.. remember in my last news letter when I wrote about the truck driver who delivered boxes of milk bags to my home? He is a very generous man who supports orphans in his home of Sri Lanka. This man loves what we do and he would not take the $300 that was to be the charge for the delivery of boxes of bags. I gave him the money and told him to send it to feed the children that he sends money to every month. I thought you might like to see some photos of what was bought with the $300. The food fed 263 children 2 meals on Christmas Day. There was so much food, care packages were given out to others in the community. Look below at the photos.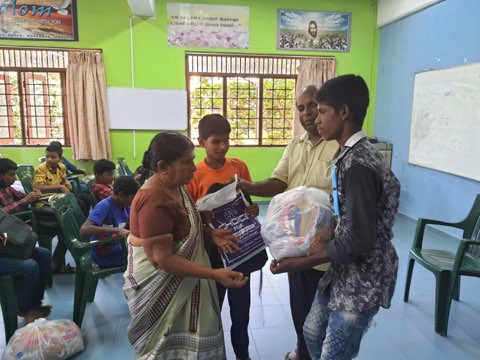 All the best for 2022.. and please come on Jan. 5th for boxes of bags to make more mats, 
Angela