HANDBAGS
Angela Kesthely  and our volunteers are constantly crocheting new handbags many with new colours and designs.
The proceeds of the sales are used to help cover our expenses. We love to be asked to participate in community  where we can sell bags and attract new groups of volunteers willing to help collect milk bags, make weaving frames and, of course weave the mats that are so desperately needed around the world.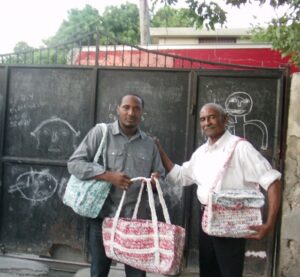 Strong, stylish handbags are available in sizes ranging from small shoulder bags to large beach bags. Sometimes we even have clutches.
Ranging in prices from CA$25.00 to CA$60.00, all you have to do is mouse over the image, get the model number and order on our contact form, we will contact you with availability, price, pick up and delivery options.