Hi Everyone,

Hope you are well.

Milk bag mats are needed more than ever and our numbers have gone up quite significantly, thank you. So far this year we have donated 5024 milk bag mats. If you would like to have milk bags, please email me and I will make sure you get what you need. You can also drop off your mats and get bags at Canadian Food for Children, but let me remind you that they are only open Monday to Friday from 8 AM until noon, no afternoons or weekends. If you go to CFFC, please send me an email with your mat count so I can add it to the list.

This newsletter goes out to almost 500 email addresses. I would like to encourage you with pictures of some of our weavers. The ladies in the photos below meet every week to weave mats and are from Lynne Creek Village in Whitby.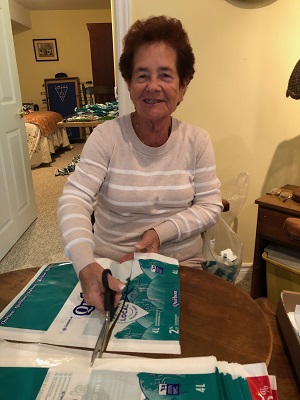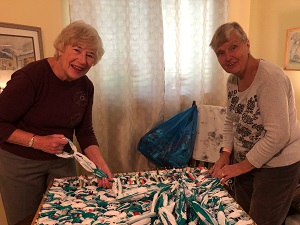 This past year they have made 142 mats.
If you would like me showcase your group or even just YOU, send us a picture and I'll share it with our followers. However, if you send me a photo please be aware that this newsletter gets put on the Milk Bags Unlimited website and Facebook. PLEASE get permission from the people in your group, for their picture to be published because people from all over the world can view it. I value your privacy, and do not want to hurt people.

One more thing, there is a lady in Guelph who has a frame to donate. If you would like to have it, please let me know and I will put you in touch with her so you can make arrangements to meet.

Stay well, and happy weaving,
Angela