MILKBAGSunlimited was launched by Angela Kesthely in Toronto, Ontario following the devastating Haitian Earthquake of 2010.
It all started with making mats to be used as mattresses or, table covers for surgery use. It did not stop there. The plastic outer shells of 4 litre milk bags don't disintegrate in landfills. They are strong, colorful and can be transformed into a multitude of products other than mats, such as purses, totes, handbags, slippers …
While saving the planet from discarded, non-recyclable milk bags, the team headed by Angela realized that by giving people the tools and the coaching, income opportunities could be created:  MILKBAGSunlimited became a source to micro-entrepreneurship.
Objective
 Give new purpose to the forever-lasting milk bags by keeping them out of landfills and encourage volunteers of all genders from young to mature to be involved in using them to create a multitude of functional items. 
Have them weave  comfortable sleeping mats for people who have nothing but bare earth or cardboard to sleep on.
Encourage them to crochet and donate different types of handbags made with milk bags. Purchased by the public at large, the revenues of those sales are used for expenses that are not covered by donations.
Create micro-entrepreneurship in third world countries which allow families to have a source of income. When people, mainly women, are able to make money, they can buy food, clothing and other family necessities.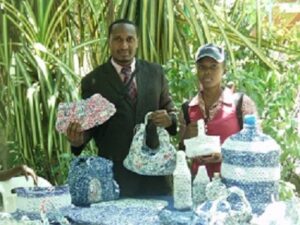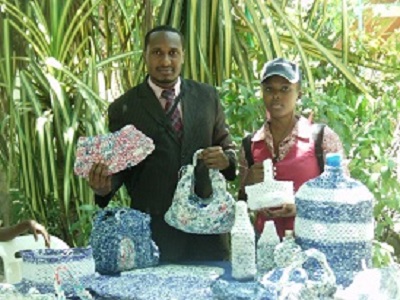 These micro-entrepreneurs create long lasting craft items that are sold locally as well as may other items…. 
Collect and send much needed supplies such as wheelchairs, crutches, toys, school supplies, tools…to needy countries. We work very closely with Canadian Food for Children the renowned charity founded by Dr Andrew Simone and his wife Joan.
MILKBAGSunlimited has no paid staff; everyone who works with MILKBAGSunlimited donates time, talent, energy and even cash to promote the collection of milk bags, the production of mats, the creation of handbags and the  coaching of the  people in needy countries to create micro-entrepreneurships.
100% of every donation of goods or money made to MILKBAGSunlimted finds its way to the people in the various countries where we work.
MILKBAGSunlimited is currently  operating under the auspices of Pan Missions Canada Inc., a registered Canadian Charity formed in 1997.
Directors 
The Founder – Angela Kesthely
 Angela Kesthely is the wife of Dr. John Kesthely, and the mother of three boys. Angela graduated from Mount Allison University with Honours in Science. She then continued her education at the University of Toronto getting an MSc. in Biology. She still works part time in her husband's dental office and she is a very much sought- after guest speaker for the cause.
Covid -19 put temporary brakes on Angela's usual activities. Unstoppable,  she will go again, as  soon as possible,  to teach the  making of sleeping mats  to an ever increasing number of groups of all ages; she will once again  promote the milk bags  recycling initiative  by participating in environmental  activities.
Angela is also waiting to be able to travel into third world countries, to bring  with her much needed  supplies of all kinds, coach the local people on becoming mini- entrepreneurs  by making, mats, bags, etc.  with our Canadian milk bags, all this while her husband, Dr John Kesthely, will provide free dental care during their stay!  She also designs patterns and directions  for many  types of beach bags, purses , slippers and more that can be made with milk bags.
She holds monthly  bag pick- up days for the weavers , and still finds time to work at the Dr. John Kesthely dental office, look after her family and have other hobbies!
The Contact  person – Bettina Roth

The owner of  Beauty Connections,  Bettina is an internationally  well known Serial Entrepreneur specializing in the Beauty Industry:  a passionate Hair Colorist and Educator, Translator and Affiliate Marketer,  she looks after the website, the social media pages  and answers the daily  inquiries.