Hi Everyone,
Hope you are all well. Thank you for your emails letting me know you enjoy getting the newsletters. I usually try to have content that hopefully we are all interested in reading. 
Our mat count is growing, no sooner do I get a shipment of mats donated and more come to me for the next donation. Thank you for your support. So far this year we have donated 4743 mats to people in need. 
As you know, this project couldn't be possible if it weren't for the endless hours our volunteers put into this cause. However, spreading the word and running this charity also involves costs that need to be covered. The sheer growth of our operation has forced me to have skids of bags delivered from Canadian Food for Children to my home with a truck that has a hydraulic tailgate. I have always kept my expenses to a minimum, but there are some financial costs. For instance, did you know it costs me over $500 a year for my website domain name and to keep the website up? https://www.milkbagsunlimited.ca    Another expense I have is getting the boxes of bags from Canadian Food for Children to my home. The milk bags are delivered for FREE by Hood Packaging, the manufacturer, in Cornwall. When they deliver milk bags to dairies in Toronto and Brampton, they bring unusable milk bags to CFFC for us to use in making mats. Thank you Hood Packaging for supporting us, we truly appreciate your generosity. 
When mats are delivered to CFFC I usually bring back boxes of bags, but due to our growth in recent years, I have gotten to a point that we need to transport some of the skids of bags to my home. I have decided to have 4 skids (140 boxes) delivered to my home when I run out of supplies. A delivery truck costs me a minimum of $300. 
So, how do I make money to pay for my expenses? I make and sell milk bag handbags. I've been making them for years, and I thank everyone who has bought one. You have helped pay for my website, delivery of skids to my home, and shipping costs and supplies for deliveries to Nicaragua and Haiti. 
Due to the Covid pandemic, we have not been gathering at churches, community centres, or schools. Usually when I present the project I bring handbags and hope that a few people will purchase one. What I am going to ask is that you would consider buying a handbag, giving one to someone for Christmas, or even giving one as a prize at some event you "might" be hosting. It takes 15 hours to make a handbag and I have about 70 of them. I charge $40 per bag. If you need to have one mailed, I will have to charge you postage, but I will squish one into a small box and try to get the lowest postage rate for you. 
I have various colours (milk bag colours) and patterns. Most of the handbags I have made, but a friend of mine who lives on PEI has made some of them. Mine are more purse-like and my friend's design is more like a beach bag.
See  the photos below  for sample pics .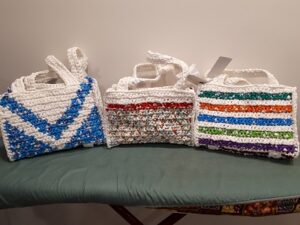 No pressure, but if you are wondering what to buy someone and want something different, consider a handbag made from milk bag plastic. Tell me the colour you like and I will take photos of what I have and you can choose the one that best suits you. You can pick them up from my home on "pick up your bags day" or I can mail you one. The best methods of payment would be cash, cheque or e-transfer. Most handbags are 14 inches wide, 11 inches tall and 5.5 inches at the base. There are a few small bags that are only 12 inches wide and 8 inches tall and a base width of4 inches.
By the way, our next pick up your bags day will be on Wednesday, October 13th.  Please let me know if you are intending on coming. If you can't make it on my pick up day, let me know and I will either give you boxes if I'm home or leave them outside my garage for you to pick up. 
Take Care, 
Angela